Holiday cottages with children-MERTXENEA in Elcano, Navarra
Mertxenea is also designed for the enjoyment of children. They can spend a great time in it because they also have their space. Both in the garden and inside the house you can play and enjoy your air without disturbing your elders, or all together. The children have at their disposal a garden of 2,400 square meters completely enclosed, with a swing and an elastic bed. They can spend hours playing with a ball, or just hiding.
Also, if you are a little older, you can get closer to the town where you have, next to the church, a small pediment and swings, or you can take a walk with the bikes.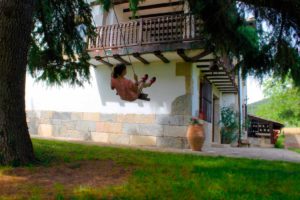 And if you prefer, or on rainy days or cool temperature, the children have at their disposal the playroom with several possibilities. A ping-pong table with paddles and balls, a game of petanque, a slate to draw, and also have puzzles and table games, cards, etc…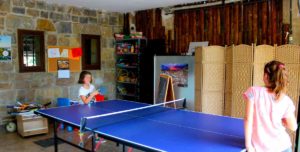 We have a cot for your baby.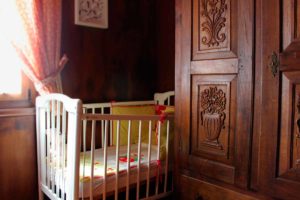 Navarra is very accessible to visit with children. On the one hand it has a network of very nice trails and a soft profile for hiking. It also has a network of greenways to do with bicycle. There are even sightseeing tours of which you will enjoy a lot, such as visiting Olite's palace, the walls of Pamplona, the Siege of Artajona, or taking a great walk through the Irati forest or the Orgi forest.
Rules for the use of the trampoline: 
Always use under the supervision of an adult person. Barefoot before entering. Use only with socks. Maximum number of persons of 2, or maximum weight 110 kg. You are not allowed to flip or push each other. It is not allowed to play inside with a ball or ball.
Holiday cottages with children-Mertxenea in Elcano
To book:
 Do not hesitate to contact us for more information, queries, reservations…
Tfn. (+ 34) 652 622 024
Ubidaurreta@gmail.com
Mertxenea Rural house in Elcano, Navarra
 Euskaraz  

  English spoken  

  On parle francais